The Commitment Pillar
The 3 basic pillars of a strong relationship are trust, communication and commitment.  (Thanks to Source Point Training for this model.)  Today I am writing about the commitment pillar.
In our program training coaches and coach-style leaders (www.mclarencoaching.com/coach-training), we work on how to be effective in relationships so that clients and employees are empowered to take ownership in getting what they say they want, be it their work experience or other results.
It was at first challenging for me to explain commitment in the context of relationships. Although I felt I knew what it was, it was difficult for me to explain it. I knew a lot of things about commitment, such as:
Commitment is evidenced by the actions you take and not by what you say.
We can always tell what we are committed to by the actions that we take.
Perfect Illustration
But I did not know how to explain this concept as a foundation of relationships with others. Then I met a man who illustrated the concept for me perfectly. This is what happened: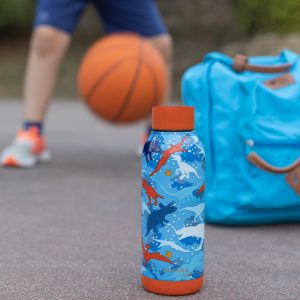 When my son was 9-years-old, he loved to play basketball.  A classmate's mom suggested he join her son's team because they felt they had a very good coach. We signed up.
It did not take long before I saw what she meant. The first thing I notice about Coach Bryan is that he has 3 young children, the oldest of whom plays on my son's team, and that his wife and kids are at every practice and every game. The second thing is that Coach Bryan dresses impeccably. He is always clean and well-pressed and this alone set him apart from the other coaches I have met in that league.
The league my son plays for is coached, as most are, by parents. They are not professional coaches. Most of them are die-hard fans. During games, most coaches were out on the court yelling at the kids and the refs. Not Coach Bryan. He stood on the sidelines and with a motion of his hand a child would run over and take direction. I never heard him raise his voice.
Making It Work
After every game, Coach Bryan called my son (and I have to assume every child on the team) to thank him for giving his all in the game.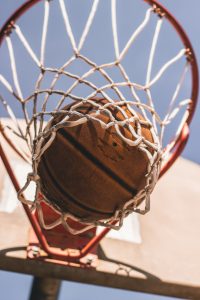 At one point, the league was trying to get indoor courts to practice on. It wasn't working out and every week, the league would change the venue. Often they did not communicate with parents in time for us to  know where the practice would be. Coach Bryan or his wife would personally call us every week and tell us where the practice would be held. After a couple of changes in location, Bryan took the initiative to stop the changing. He called and said, "We have an outdoor court. The changing around isn't working for us. Let's just stay there." We did. While other teams went from court to court, we always knew where our practice would be. The basketball hoops did not have nets. Coach Bryan brought nets for the hoops every week.
After our first loss, I heard him give a speech to the team. He said, I want to apologize to you for not training you better to be ready for that team. He listed all of the areas where the children needed to improve for themselves so they knew exactly what they had to work on. And he took responsibility for the loss as their coach.
Eventually, the coach created a newsletter that had interesting stories and facts about our team. It highlighted a different player every week. In a league where coaches would rarely call and tell us if the venue had changed, he was giving us newsletters and written changes. He bought socks and shorts for the team so they would match on the court.
4 Commitment Tips
It was very clear to me that this man had a commitment to our team as a whole and to the players individually. As I observed him, I learned what is involved in showing someone you are committed to the relationship.
It is true that commitment is apparent in the actions that we take. Other coaches talked about being committed, but failed to show up for practice, learn our children's names, or tell us when the venue changed. Coach Bryan did not talk about commitment. He demonstrated it. His actions went above and beyond what was "necessary" or "required." He seemed always to be asking, "What else can I do?"
It is true we can tell what you are committed to by the actions that you take. This coach was committed to the children learning basketball and loving it and giving it their all. He was committed to the families of the children being involved. I saw this by the actions he took. He was committed to each child knowing their unique contribution to the team.
The biggest thing I learned about commitment is this — go above and beyond.  Do more than you have to. Do more than is expected. In an environment where other coaches did only the bare minimum expected of them, Coach Bryan established his own standards.
Be committed. There were so many actions taken by Coach Bryan, and there was presence. He was present to each child. He listened when they spoke. He reached out to them. He demonstrated how important they were by his way of being with them.
Business Commitment
How can you bring this commitment to your business and the rest of your life? What do your customers and clients think of when they think about you? Do you stand out to them? Do they feel special to you? Or do they believe that they are just another account? Do you do the bare minimum that is expected of you or do you do more?
Sometimes we get so caught up in the business of our business, we forget to show our commitment to the people we do business for or with. Without the people — the relationships — there would be no business to do.
If you are a business owner, a parent, a friend, stand out. You won't do this by delivering only what you have promised (though it certainly helps!). To stand out, you must demonstrate a commitment to a higher standard — a standard that you yourself set. What do you want others' experience of you to be?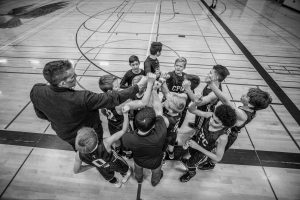 The team went all the way to the final championship game and lost by one point. It was something to be proud of. Some people blamed the refs for the one-point loss. Coach Bryan told the kids to be proud of what they had done, that he was proud of them because they gave their all. He refused to blame the refs. As a result of his commitment, we went to the championship. As a further result, my boy still loves basketball. But more importantly, my adult son does whatever is necessary to show others their importance to him, because one man went above and beyond to teach him basketball and to demonstrate commitment.