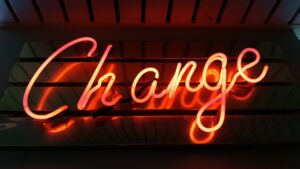 I love my spin class. I love the people who work there. I spend so much of my life working on inspiration – with myself and others. Working on how to say things to create meaning. And each day in spin someone says something. (Indoor Cycling Sacramento | TEAMride (team-ride.com))
Sunday it was Tash – she was talking about turning up the resistance on the bike – a frequent request. Then she said this: "You don't need to change your whole world but you do need to change something."
Life and growth, right?
YOU DON'T NEED TO CHANGE YOUR WHOLE WORLD, BUT YOU DO NEED TO CHANGE SOMETHING
One of my favorite coaches recently said to me "coaching is like a drop of die in a glass of water; it is one small drop, but it can change everything." Change is like that. What will you do today? What one small step can you take toward that thing you say you want? You don't have to change your whole world. You don't have to go for perfection. Just change something. And your whole world may very well change.